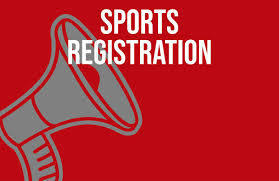 Hello Raiders, I'd like to start by thanking you all for your patience and understanding as we continue to develop our fall plans to return to school. I know you have questions and concerns on many levels. The Board of Education and Administration have been discussing the situation all summer and we continue to be focused on returning 5 days a week to in person instruction. We have the safety of all our students and employees in mind as we look at various options. Naturally, in person learning will look different than it has in the past. We will have to navigate social distancing, face masks, and illness. I learned this morning that the State Board of Education and the Illinois Department of Public Health will be holding a meeting this Friday to discuss the return of students to in person learning. We expect further guidance to come from that meeting next week. Our intention is to provide families a plan towards the end of next week. I realize many area districts are already announcing their plans; however, I feel many of these are premature and will ultimately need to be altered. I appreciate all those that completed our survey and we're using that information to develop our plans. Please look for our plan to be published towards the end of next week. It will be emailed to all parents and posted on our website
www.midwestcentral.org
Thank you again for your support of our district. Very Best Regards, Todd Hellrigel, Ed.D.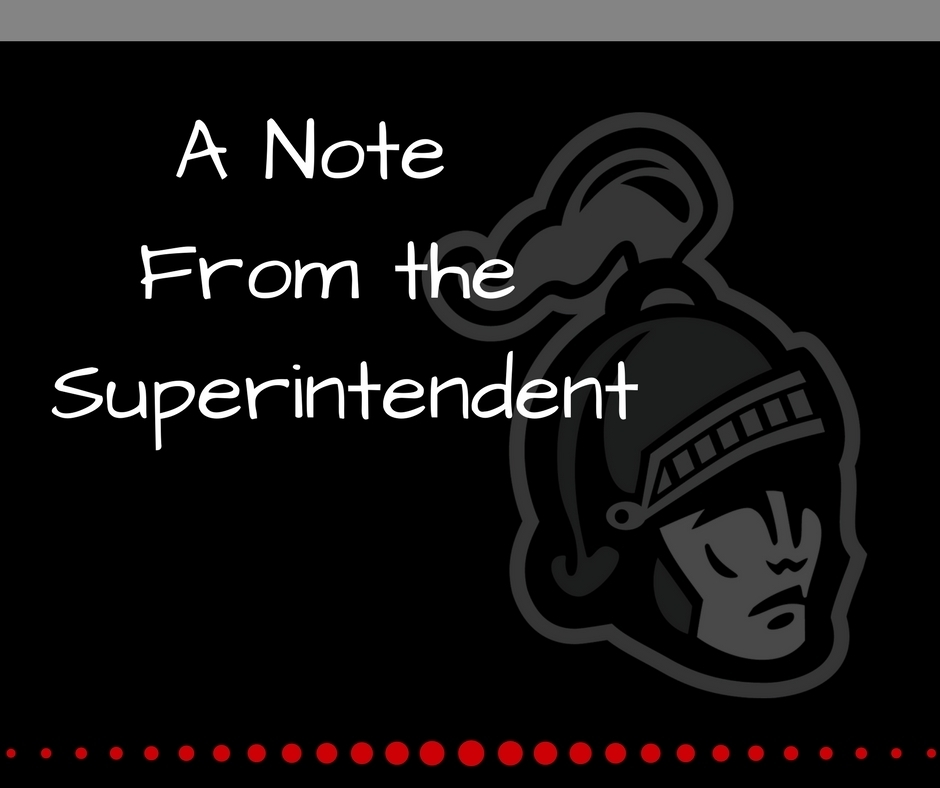 Wishing all of our Raider families and community a very happy and safe holiday weekend!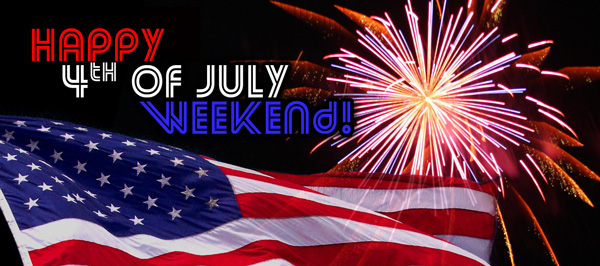 Join Our Team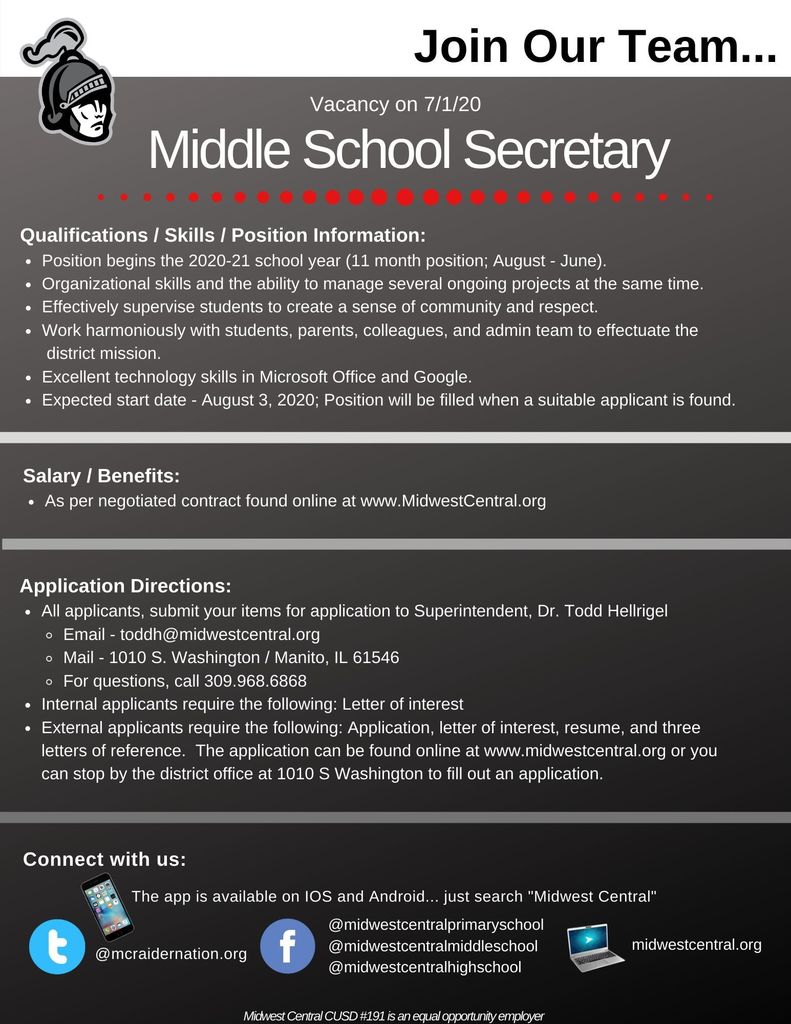 June 30, 2020 Hello Raider Parents, As my previous email stated we do plan to start school in person this fall. This is the time of year that we would normally inform you of school registration details. To that end, we'd like to provide you with registration information so you can mark dates on your calendars. This year we're transitioning to an online registration format. Midwest Central will roll out the online registration format on August 3rd in the afternoon. For those individuals that have poor internet access or have other technical issues we will hold an in person registration on August 11th at Midwest Central Primary School. During the August 11th registration we will have you use one of the school computers to complete the online registration for your student. We will have onsite help available from 7am to 7pm that day. If you are able to complete the online registration in advance of the 11th you will not need to attend the in person registration. If you choose to attend the in person registration, we ask that only one person per household attend in order to limit the number of people. Please do not bring your children to the in person registration. Although registration is being completed online we will still need to have physical copies of your student's health documents. Attached to the email is a list of the documents that are needed for individual grade levels. You can drop off necessary documents at any school in the district for your student and they will be routed to the appropriate building. Health records may be dropped off between 8am and 3pm August 3rd through August 11th. Also, if you prefer paying for registration by cash or check, you will be able to drop a check or cash by any building to pay for registration costs. Finally, in order to prepare for the online registration format I have attached a couple guidance documents with some helpful tips of items that can be done in advance of registration. Please take a moment and review the documents attached. We will send out additional registration instructions August 3rd. Thank you for your continued patience and support as we navigate the ever changing state mandates. Our goal is to give you and your students the best possible experience we can this fall. Sincerely, Todd Hellrigel, Ed.D.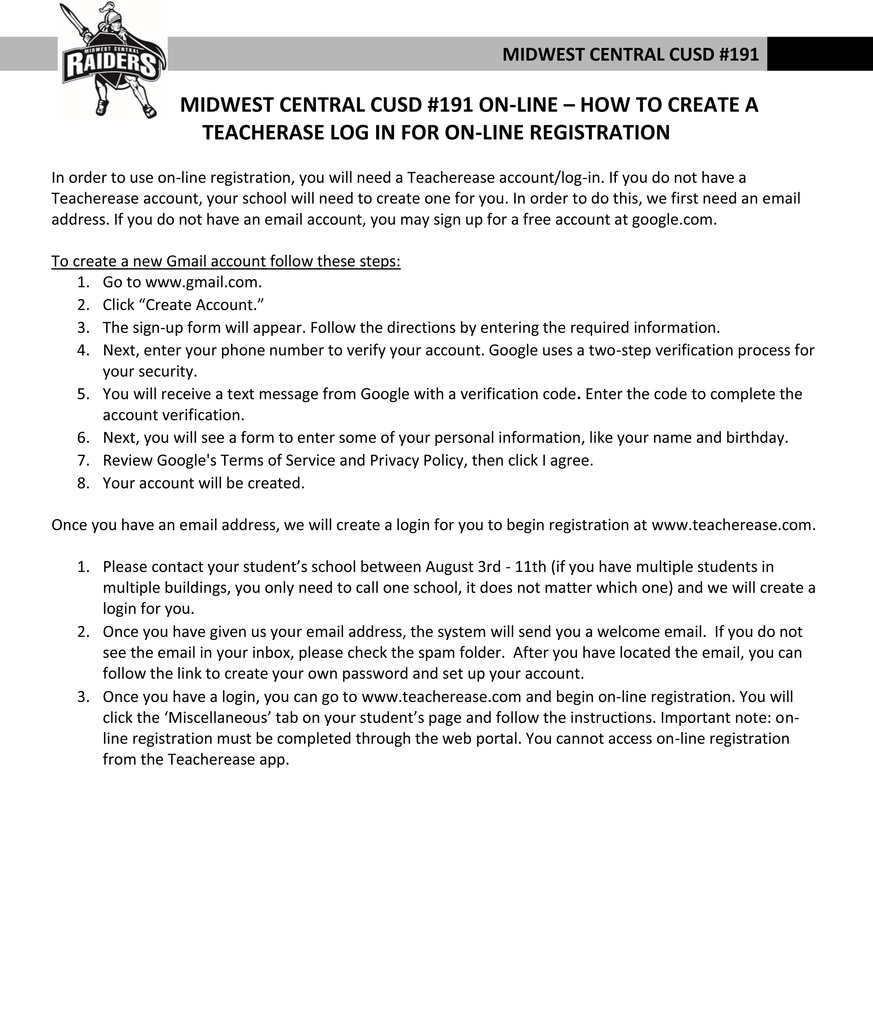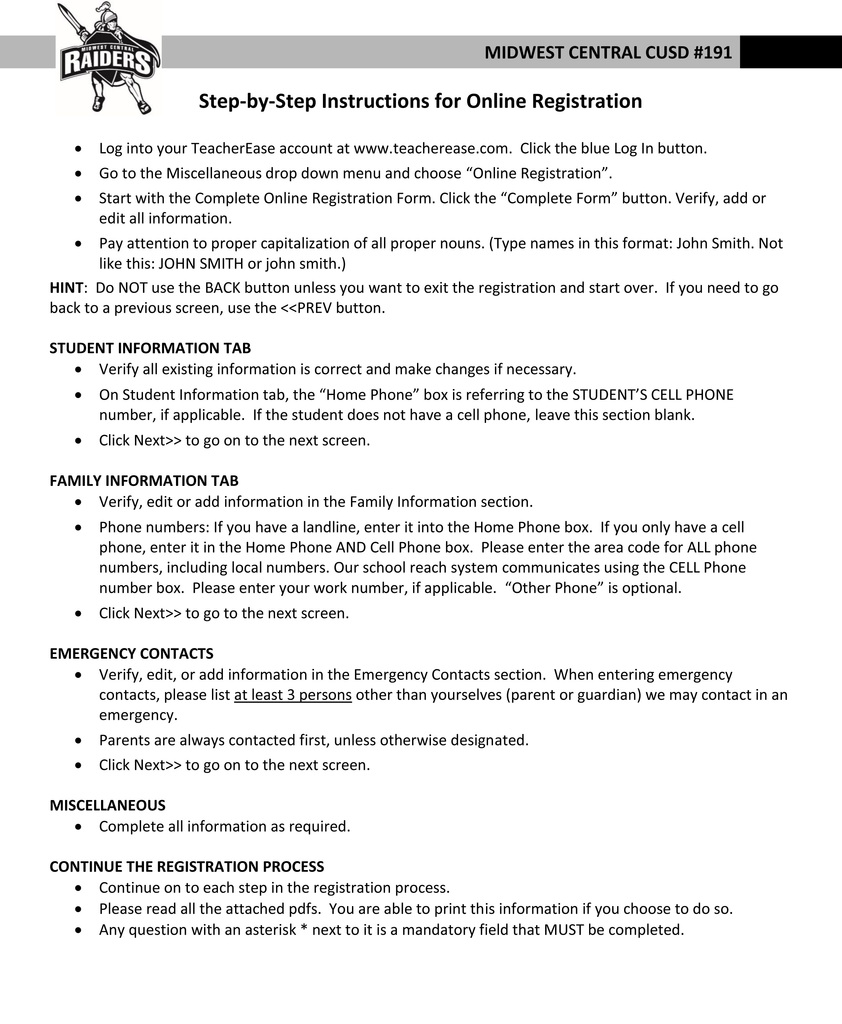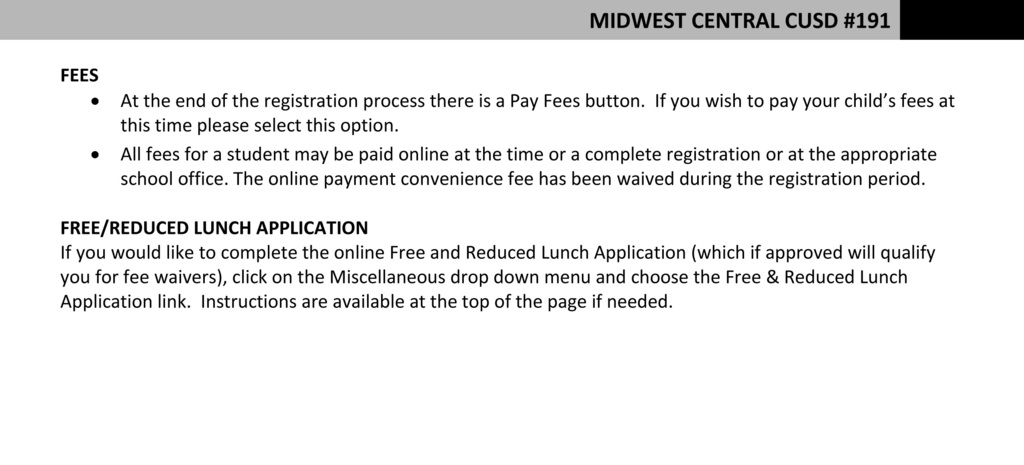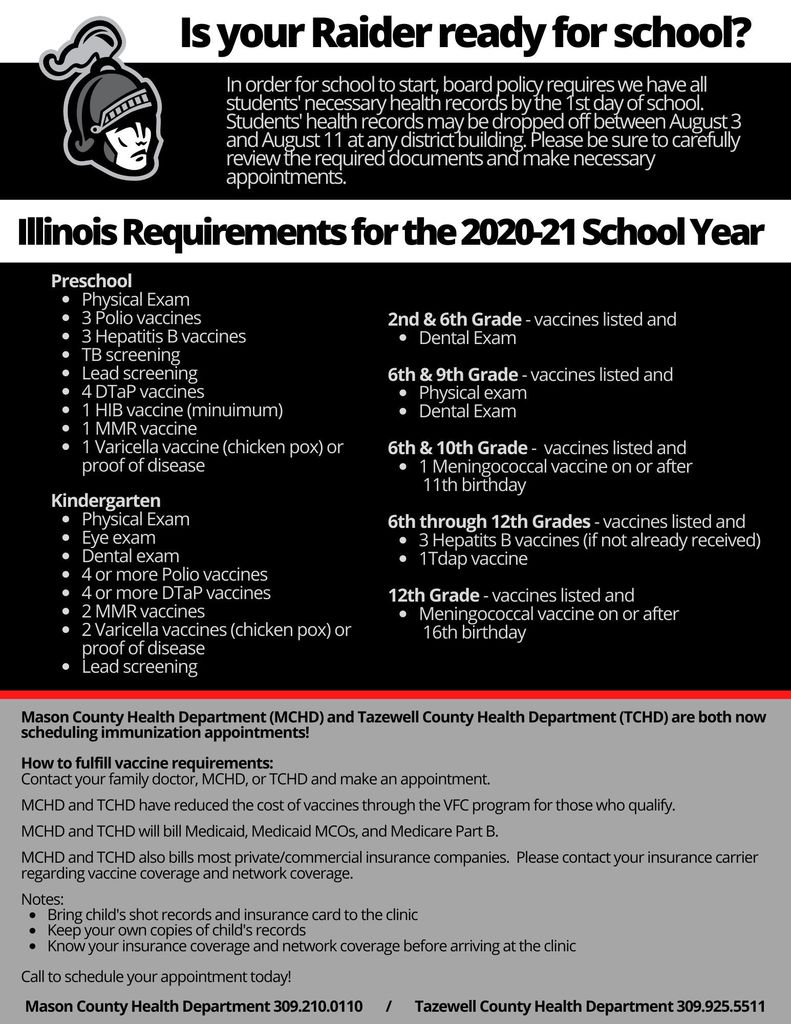 June 30, 2020 Dear Raiders, Last week the Illinois State Board of Education released guidance for schools on the 2020-21 school year. This 63-page document has been much anticipated and will go a long way toward answering critical questions all of us share about what the 2020-21 school year will look like in terms of in-person learning, scheduling, transportation, wearing masks, social distancing and other measures intended to keep everyone safe and healthy, while also re-engaging students in the learning process. Several area schools have already released statements about what the 2020-21 school year will look like; however, we believe this may be premature and anticipate changes between now and the time school starts. Right now we don't have all the answers to provide you, but we'd like to communicate to you what we know now. We plan to return to school this fall for in person instruction 5 days a week following our current published calendar. There will be a couple of calendar changes coming out later this month and we'll be sure to communicate those changes. Naturally, our instruction days may look different and we'll most likely have several safety guidelines in place for students, faculty, and staff. Midwest Central is aware of the urgent need to communicate to families about what to expect next school year and anticipate sharing a more detailed plan later this summer. We plan to release our full transition plan the week of July 27th. We will be releasing a survey later this week to collect some information to help us plan for this coming year. It will be short and sweet, and we would appreciate your participation. I'm confident our district can put forth a plan that prioritizes the health and safety of our students while maintaining a dynamic learning environment. Sincerely, Todd Hellrigel, Ed.D.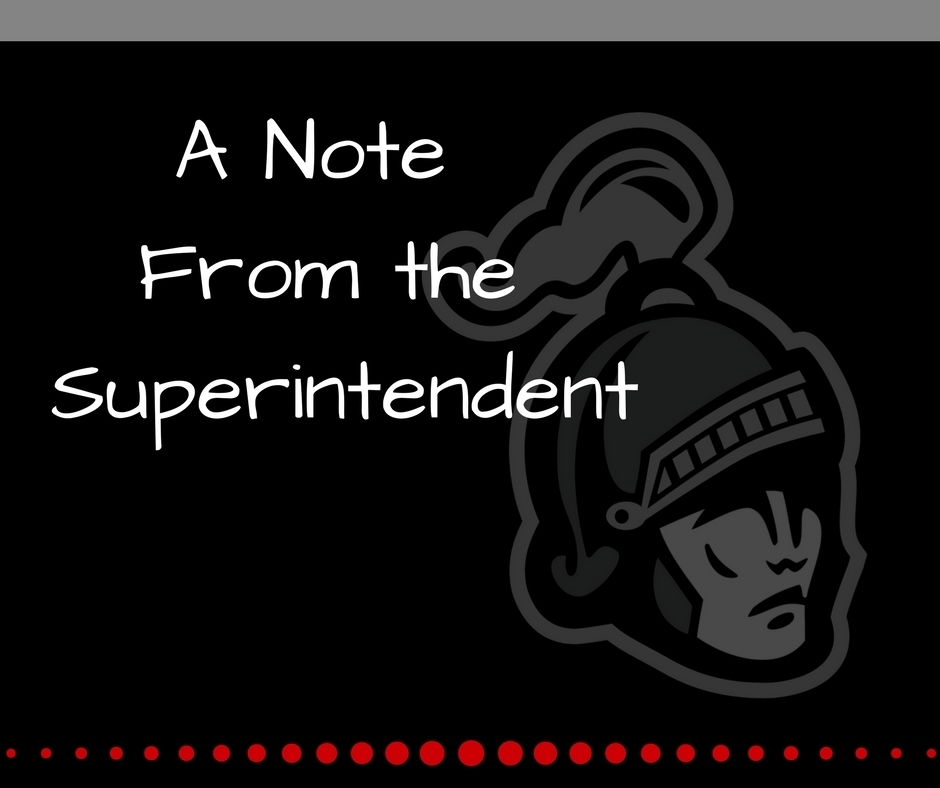 Preschool Screening Info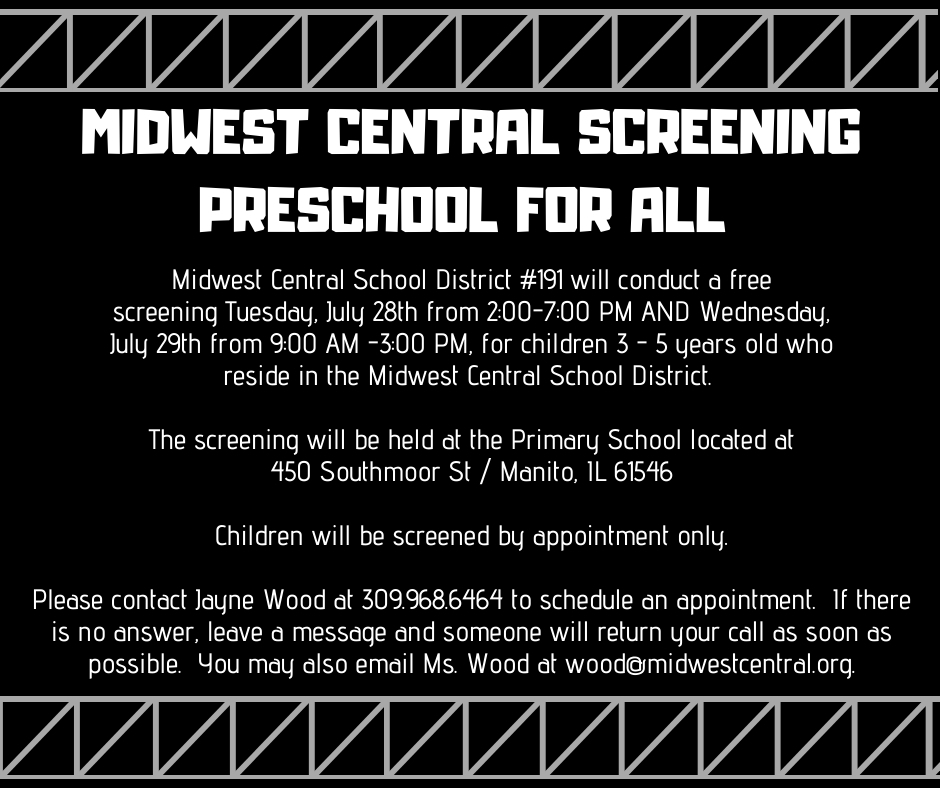 Is your Raider ready for FY21?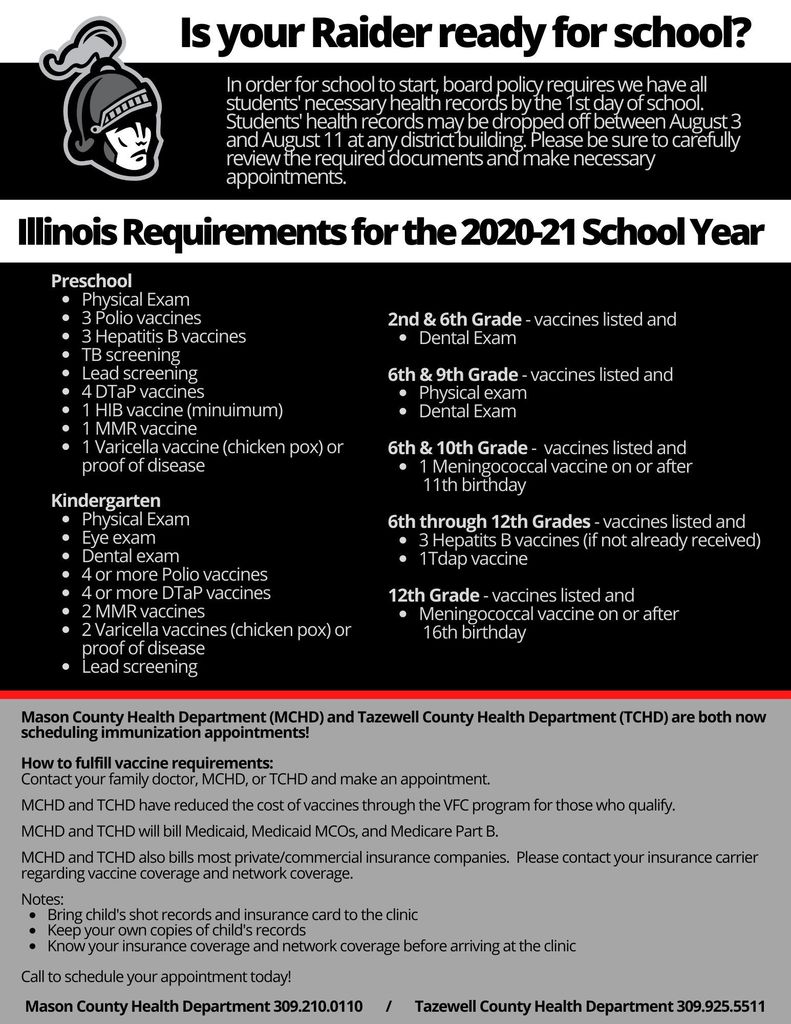 Join our team!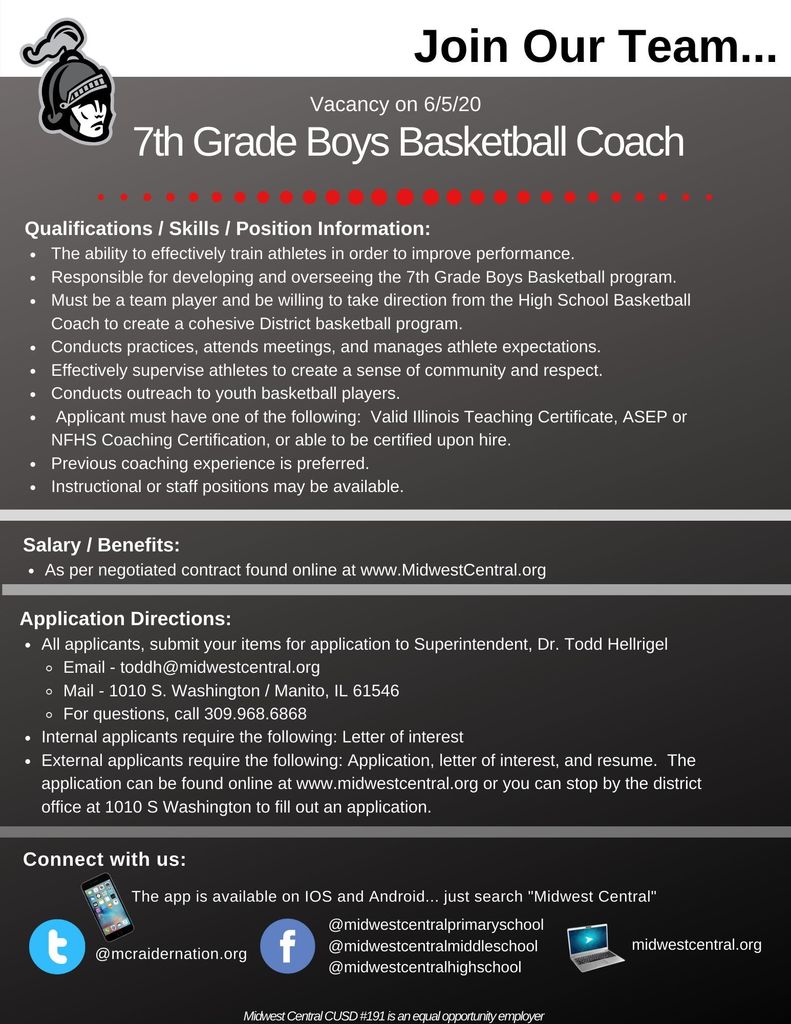 Once again we encourage everyone in our school district to please complete your 2020 Census. The future of our district funding and programs depends on you taking the time to fill this out. Thank you for your help!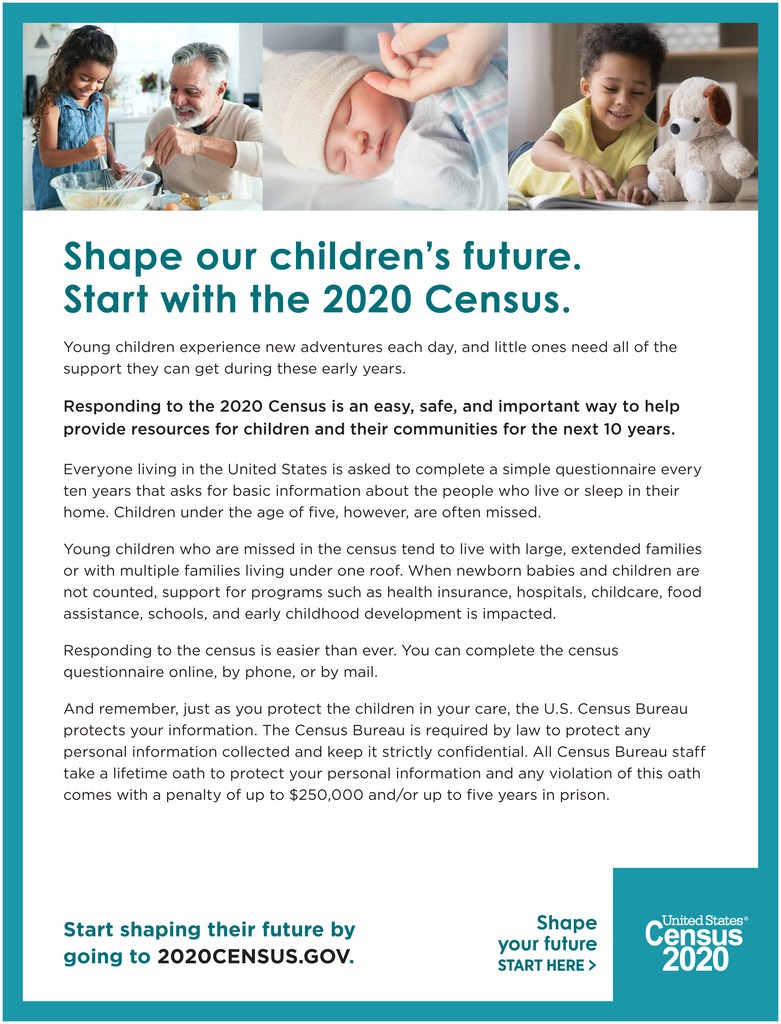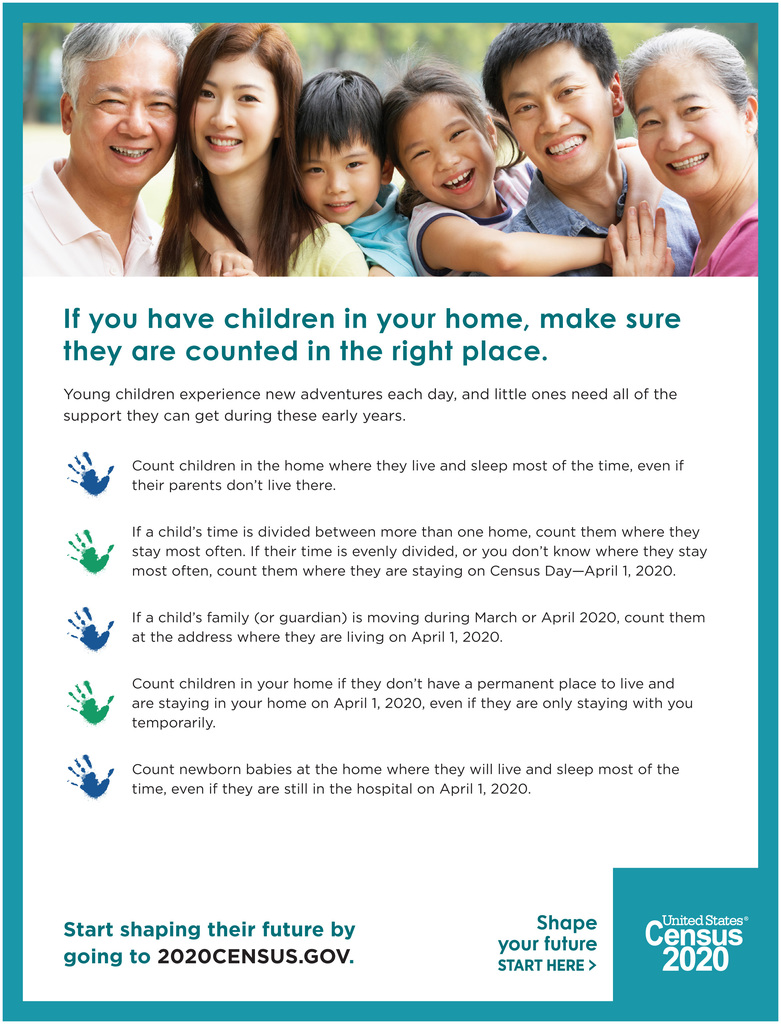 The Primary School yearbooks are in. You may pick up your yearbook during the hours of 8:00 am - 2:00 pm Monday - Friday at the Primary School. If you still haven't picked up your child's school items and dropped off their last packet, please do so by Wednesday. Thank you.

One last read aloud to jumpstart your summer! I hope you have enjoyed listening to these read alouds as much as I have enjoyed making them! Hopefully the next time I read to you, it will be in your classroom. Have a great summer Readers! — Mrs. Crawford The Thank You Book by Mo Willems
https://youtu.be/CZ1-8GPr6DU

It's almost time for summer vacation! Get prepared with this read aloud, The Night Before Summer Vacation by Natasha Wing.
https://youtu.be/yPQT9Y9NFd0

Our faculty and staff are in route for our end of the school year town drive by!! We have rows of cars and smiles! Step outside and wave hello!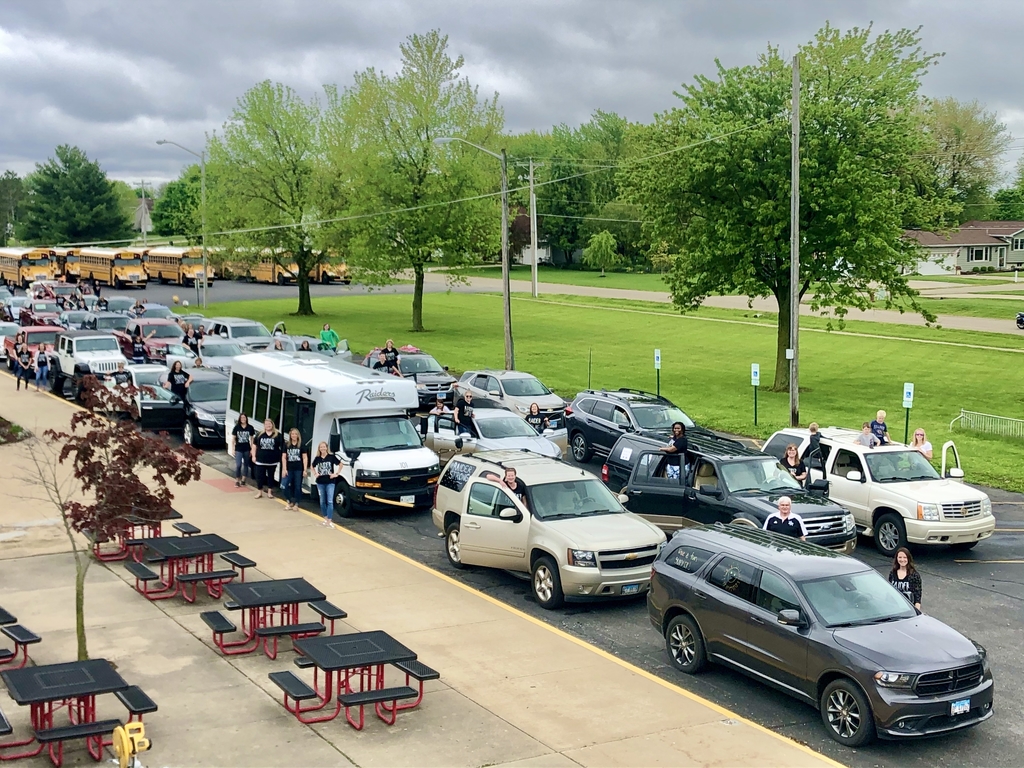 On May 13th from 6:00am – 6:00pm, the Primary School will be open for student items to be picked up and dropped off. We ask that only 1 parent / guardian from the family come to pick up and drop off items. Students will not be allowed to enter the building. If you are unable to attend, another parent may pick your student(s) items up for you. If you are ill or have symptoms, please do not come. Below is a link to a map where to enter the building and location of the items. The parent / guardian will be allowed into the building, while practicing social distancing, and walk through the library to pick up their student(s) items. The items will be arranged by grade level and teacher. Staff will be located throughout the library to assist with the flow of the parents. The parent will exit the far library door and then exit the building. Here is the link to the map.
https://5il.co/g0z2



Join our Team - 2nd Grade Teacher Vacancy

Their futures are bright... so they gotta wear shades! Wednesday was sunglasses day for Ms. Dougherty and Ms. Vaughn's preschool class!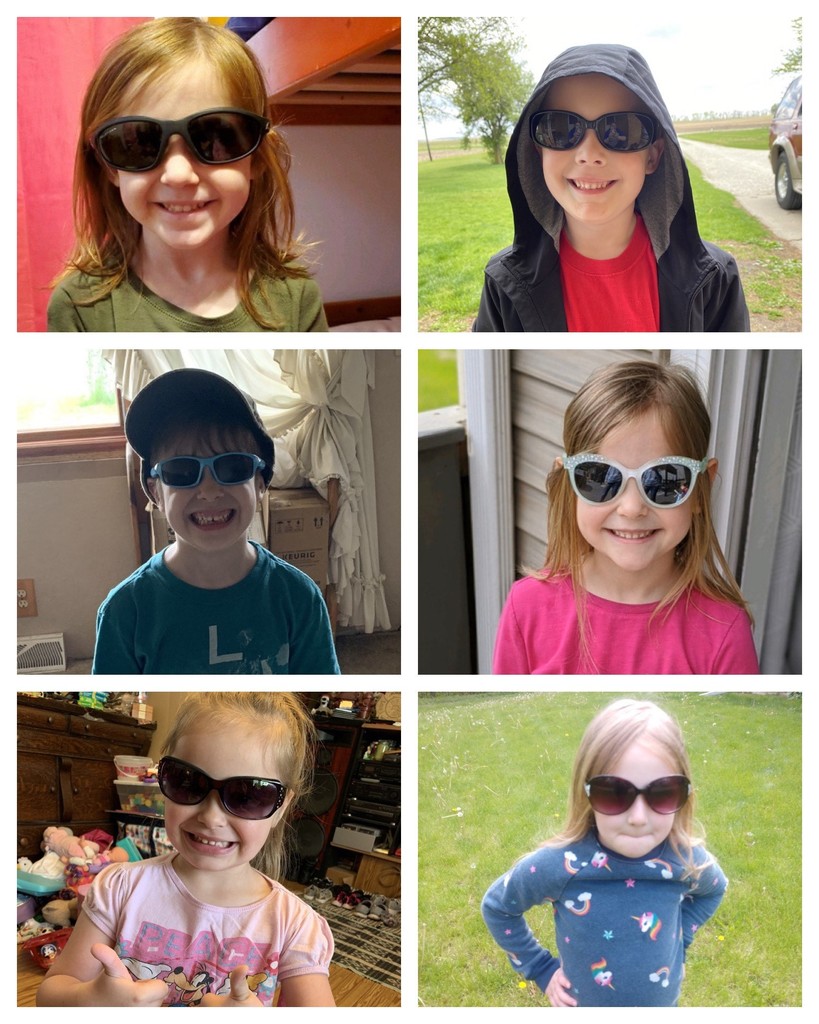 Happy National Nurses Day! To all the nurses out there on the front line, we appreciate you! Nurse Denise and Nurse Shyla, you ladies are top notch and we are blessed to have you as part of our Raider family!